Artivism: Five Steps Toward (Non-Partisan) Election Reform
New Year, New Struggle -
As we move into a new year, and a new presidency, I wanted to share some election reform efforts that individuals of any party (or no party) affiliation can come together and take action on. The following five items are ways to move toward a "one person, one vote" election system. As the non-profit organization, FairVote, puts it on their
website
, "Americans may have different views on politics, but we share a desire for a fair and representative system for electing local, state, and national leaders." I don't know that I 100 percent believe that, but I'm willing to give my readers the benefit of the doubt. By ensuring that all voices - not just corporate, loud, and obnoxious ones - are heard, valued, and weighted to impact our government, we can move forward together.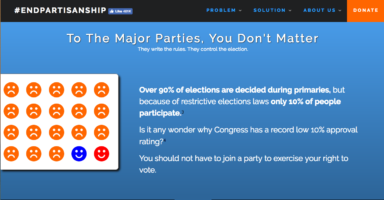 *
Stein (and her supporters) took a lot of flack for being a "spoiler" in this election - as did Bernie and his #StillSanders supporters - but if critics took the time to listen to either candidate speak or watch how their campaigns were conducted, they might realize that their anger should be directed at our system for rewarding circus revelry and off-topic media shit-shows, rather than candidates like Sanders and Stein - both who understood what topics mattered to American's disappearing middle class. I believe without a shadow of a doubt that a Sanders/Stein ticket would have solidly defeated both DNC & RNC candidates. Unlike Johnson, Stein actively advocated not just for her party's inclusion but for inclusion of all third party candidates in the debates. Unlike Hillary Clinton, Stein questioned the election's results in swing states that really were too close to call (and should have been subjected to recounts). Unlike her critics, Stein is committed to continuing to fight for human rights rather than passing blame for election results.
**
Clarified best in the NYT: "No one doubts that election fraud has occurred and needs to be monitored. Election outcomes have been changed by officials who altered vote tallies, and in theory hackers could pick winners by playing havoc with voter rolls, voting machines or electronic reporting networks. But voter fraud, in which someone deliberately casts an invalid ballot or a ballot under someone else's name, is exceedingly rare."
Selected Resources (random order):
http://www.fairvote.org/open_and_closed_primaries
https://www.nytimes.com/2016/12/18/us/voter-fraud.html
https://www.americanprogress.org/issues/democracy/reports/2016/11/11/292322/voter-suppression-laws-cost-americans-their-voices-at-the-polls/
https://www.aclu.org/issues/voting-rights/fighting-voter-suppression
http://www.slate.com/articles/news_and_politics/jurisprudence/2016/10/republicans_are_already_suppressing_minority_votes_all_over_america.html
https://www.nytimes.com/2016/12/19/opinion/time-to-end-the-electoral-college.html
http://thehill.com/blogs/floor-action/senate/306121-dem-senator-introducing-bill-to-abolish-electoral-college